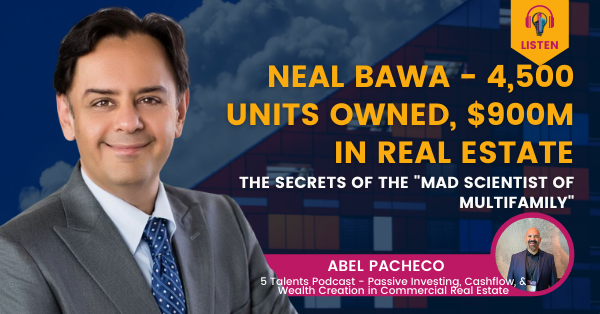 Our special guest for today is the "Mad Scientist of Multifamily," Neal Bawa. Neal is Chief Executive Officer (CEO) and Founder at Grocapitus, a commercial real estate investment company. Neal sources, negotiates and acquires Commercial properties across the U.S., for nearly 500 investors. Current portfolio over 2000 units, projected to be at 3000 units in 12 months.
Neal also serves as CEO at MultifamilyU, an apartment investing education company. He speaks at events & meetups across the country. Nearly 5,000 students attend his multifamily webinar series each year and hundreds attend his Magic of Multifamily bootcamps. Neal is the co-founder of the MultifamilyU Investing Meetup network, a group of investors that has over 4,000 members.
In 2019, Neal's team is sourcing hundreds of Opportunity Zone projects in the U.S., and filtering them by OZ quality to bring them to our investors.
Listen to Neal and learn from the Mad Scientist of Multifamily!
[00:01 – 06:10] Opening Segment
Let's get to know Neal Bawa
Neal talks about his journey to multifamily investing
[06:11 – 16:14] The "Super Value Add"
Neal reveals his secrets in looking for deals
Why no one does a "super value add"
Here's how to leverage a class that Neal has invented
[16:15 – 26:00] Correlation Between Interest Rates and Cap Rates
Don't miss Neal's outlook in the real estate space!
Liquidity and money are not the same things
Here's an important information that you learn now
[26:01 – 36:15] Built to Rent and Multifamily
The 3 different sources that inject money into real estate
Why many people love office investments
Neal weighs in between "built to rent" and multifamily
[36:16- 44:11] Exit Strategy for Real Estate
Why Neal remains bullish on real estate despite the recent trends
Neal is positioning himself for an exit in real estate
When to anticipate the downturn in real estate
[44:12 – 47:17] Closing Segment
Connect with Neal
Final words from Neal and me 
 Tweetable Quotes: 
"[Built to rent] is by far the largest investment. No other investment landscape has seen anything like this." – Neal Bawa
"We always tell people when it comes to investing, take it slow, make sure that the people you're investing with…your philosophy agrees with theirs." – Neal Bawa