Multifamily University Reviews
Awesome presentation. Thank you so much!
I currently invest in Houston and San Antonio and the oil news we all hear about will be good for Houston. But your analyses of San Antonio blew my socks off! I know it's a good investment opportunity due to the military, but I never thought to think through the oming manufacturing boom in Mexico and how it would affect San Antonio.
I now know where I will be spending quite a bit of my investment dollars for the next few years!
Thank you for your awesome insights Neal!
Terrific presentation about your views of the markets and state of the economy. Really informative information. Keep up the great work!
I just want to reach out and thank you for all your insights. I feel like a young padawan learner in this real estate syndication game. You have given my wife and I the perfect roadmap to generate a treasure map of the U.S. and to make data-driven decisions so we can remove the emotions out of our choices in markets we are investing in. I feel like I have had a light saber with my software developer / data-science background and you just taught me how to use the force. I really look forward to learning so much more from you.
As an investor new to multifamily real estate, I was thoroughly impressed with how much I learned from the meetings and webinars. Neal is a tremendous speaker with a wealth of knowledge and insight into the multifamily market. Well worth your time!
Neal's presentation was filled with invaluable information that is not readily available to the average investor. This group takes you to the elite level of investing. Many many hours of research must have gone into this presentation! Thank you guys for sharing it with me!!
Super Meetup event. Neal is an expert in real estate and rentals. He is the best teacher I have met in the last 3 decades and he is willing to share his knowledge to all attendees, including some potential competitors down the road. Thank you, Neal.
I wanted to say thank you for the extraordinary amount of information when it comes to multifamily investing. Felt like the information you shared was very valuable and appreciated being able to see how you analytically approach finding properties.
I was simply blown away by my first time attending Neal's meetup. His presentation was phenomenal. It was packed full of relevant, tangible, and actionable information. This group's culture of open sharing and abundance mindset is nothing short of admirable. I will be attending future meetups as often as possible.
Wow! The thoroughness of the presentation was exceptional. Regardless of where you are in your real estate investing career, you would have learned something at this presentation. I left knowing how to better analyze markets, which will leave me making smarter and more profitable investments! Thank you.
Thanks for the seminar and follow up. You stand out from other gurus. Your presentation was content rich and up to the speed with Silicon Valley styles – open, techie and sharp. I like your processes to select the Property Manager the most. It's like picking a babysitter. If we do our homework to find a good babysitter, it gives the peace of mind. Otherwise, we spend more time to manage bad ones. My A-ha from your seminar is why do we compromise to fit their styles when we have choice to hire them or not in the beginning. Looking forward to join your next event.
The recent Multi-Family Presentation by Neil Bawa was thorough, timey and detailed. His complete detailed analysis of Global, International and Emerging Markets of where to invest and where to avoid is invaluable. Anyone who follows the knowledge gained from his presentation would greatly benefit in multi-family investing.
Neal, I've had tremendous response from your presentation. You are absolutely one of the most fascinating and powerful forces in the space right now Neal. A true gentleman, professional, and magician of words and ideas. And what I love is that there is no sales pitch, only knowledge-based education which leads to lucrative results. I'm truly humbled to see your process in action. Thank you for being abundant.
Thank you Neal. Mind blowing stuff as always! Not to mention, gripping! Look forward to the recording of that and the slides! Couldn't take notes fast enough 
Once again you did an exceptional job with your research, resources and presentation for the 10 Disruptive Tends webinar. It always amazes me how you come up with these ideas and data to confirm and substantiate the areas covered. Your whole presentation was very interesting and enjoyable. Personally, I found the topics discussing the use of tech tools to maximize your bottom line and tokenization/contracts to be of particular interest.
Super Meetup event. Neal is an expert in real estate and rentals. He is the best teacher I have met in the last 3 decades and he is willing to share his knowledge to all attendees, including some potential competitors dow the road.
Neal, your speech was fantastic. It was the best I've seen thus far. Thank you. We're working on multifamily syndications in California and I can't tell you how valuable that was.
Neal and his team present some of the best info and data I've ever come across. He and his team dive deep into various niches and what drives the supply, demand and possible profits in those niches ie: multifamily, SFR, AirBnb/VRBO, student housing, etc. During the webinar on 10 Disruptive Trends, I had an a-ha moment when he provided data on the vacation rental market, the "staycation" in which people are staying state side, yet traveling 30-45 mins from major metropolitan areas to rest and enjoy a few days to weeks away from the big cities. The aforementioned was very eye opening, because it opened up a completely different area to conduct searches for short term rentals.
Very interesting and well researched presentation! Not only will I be incorporating these upcoming disruptive trends into our future investments, I also plan to tweaking our existing real estate and stock portfolio to maximize the future returns and reduce risk.
I am a faithful attendee of all the webinars presented by Neal Bawa and Anna Myers. I always learn something and they send my brain spinning in many directions. The knowledge Neal presents on all things real estate is priceless. Whether it is "climation" or "tokenization" the facts and data are always accurate. It would be foolish of me to pass on the opportunity to receive the down-to-earth wisdom provided and freely given by Neal and Anna. Neal Bawa is the epitome of real estate knowledge, which I trust implicitly. Thank you for sharing it with me.
Neal's presentations always hit the mark. Factual, data driven, NO BS actionable insights that any investor and learner can use and benefit from. The thought leadership and analysis was very thorough and thought provoking, just as we have come to expect from Grocapitus and MultifamilyU. Using these holistic insights investors can position themselves well for present and future opportunities.
I love Neal's presentations, they are very insightful and always innovative. There are so many things I agreed with and several new thoughts that I feel could be revolutionary. Since Covid we are seeing massive changes in many industries and the data in this presentation supports it. Keep up the great work, it is so wonderful to participate in.
Grocapitus Direct Portfolio
Grocapitus Investments exists to find and present rock-solid commercial real estate investments to our highly valued capital partners. In addition to producing attractive risk-adjusted returns for our investors, we strive to enhance the life of every tenant, team member, and individual that comes into contact with our business.
We help people become financially free by investing in multifamily apartment buildings, student housing, and industrial properties in high-quality markets nationwide. To accomplish this on a consistent basis, our rock star team executes our proprietary data-driven process for identifying, acquiring, managing, stabilizing, optimizing and divesting cash-flowing value-add Class B and C properties. We also build best in class new construction multifamily, student housing, flex industrial and self-storage projects.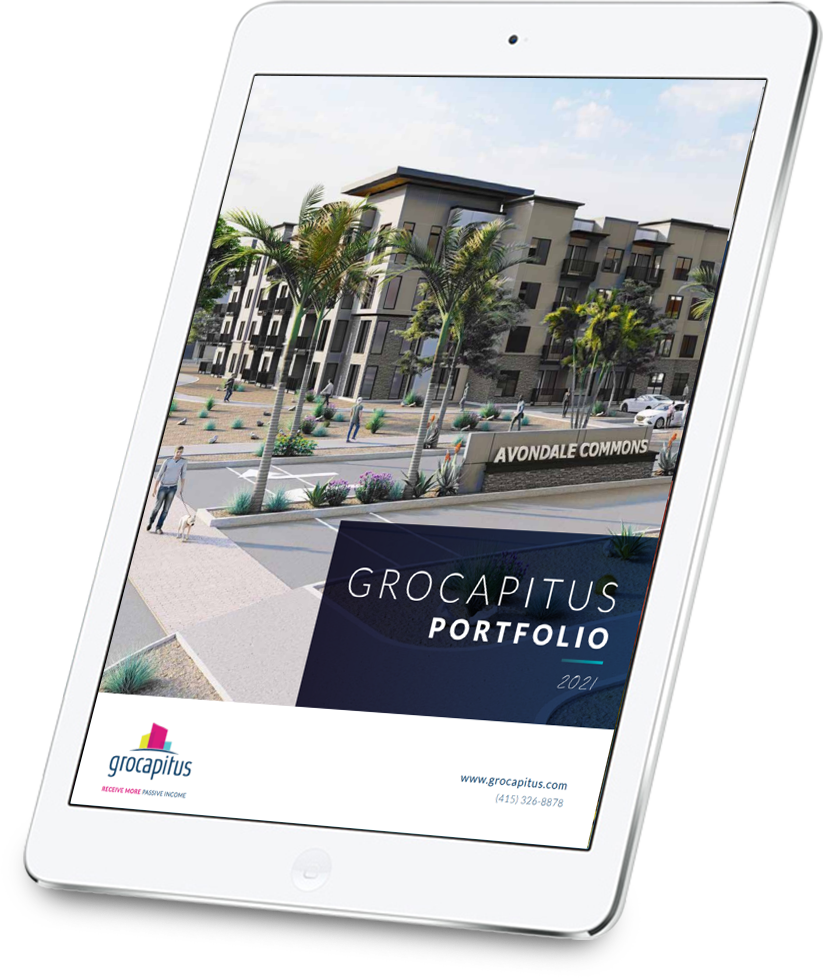 Hundreds of real estate investors have invested with Grocapitus.
Here's what a few of them are saying…
For all those interested, I can shed some light on the subject. I invested in one of the projects 2 years ago and expecting an exit next year. The totals shown are the average for all the projects and exists (completion and safe), so far. Neal knows his stuff and they don't move on risky projects. I would definitely invest with them again. If considering another investment, ask about their experience and established track record.
I just want to reach out and thank you for all your insights. I feel like a young padawan learner in this real estate syndication game. You have given my wife and I the perfect roadmap to generate a treasure map of the U.S. and to make data-driven decisions so we can remove the emotions out of our choices in markets we are investing in. I feel like I have had a light saber with my software developer / data-science background and you just taught me how to use the force. I really look forward to learning so much more from you.
Thanks again for the excellent investor communication and strong execution. Your team's investor communication is one of the best among the public and private companies I invested in – Regular, transparent, action oriented and strategic.
I have several investments with Neal Bawa through Grocapitus. I trust that his underwriting is conservative and accurate. He is very knowledgeable about market conditions and is happy to share his research. During the course of the investments Neal and Anna are both very responsive and prompt in answering questions.
Their reporting is consistent, timely, and provides an honest portrayal of how the property is doing. The returns I have received on my investments have been very close to proforma projections, even in these very difficult pandemic times. I would definitely invest with Grocapitus again in the future.
I've invested in 6 of Neal's projects. As I write this, we just had the first successful exit: the Windward Forest Multifamily project, where we earned >20% IRR.
Neal is extremely agile. Until COVID hit us, his projects were mostly multifamily deals (each with some value-add strategy that should increase the NOI). Since then, he realized that there may be higher risk in such deals due to tenants' unemployment, inability to pay rent, and eviction restrictions. 
Still, I am very impressed by the multifamily projects performance: the occupancy levels have not gone down, and rent collection is very high, given the circumstances. I personally like the multifamily projects more, as they offer dividends from the rent income, and it's easier to predict their performance. Anyways, I trust Neal's numbers, so I have invested in his recent construction projects, too. Keep them coming, Neal!
Neal and his team are awesome! I've invested in 8 projects with him and after 3 years we've already sold three. He's outperformed other syndicates that I've invested with for much longer. I love getting his monthly updates. It's rare to have a syndicator update us so regularly.
Grocapitus is a breath of fresh air. They do things differently and way better than their competitors. Thank you Neal for being an amazing leader to your team! I couldn't be happier with the results so far. Looking forward to investing more in the future.
I had met Neal at a real estate investor meetup a few years back. Neal was very positive about investing in multifamily.
He does a lot of research using data analytics on markets, identifying growth areas, finding good neighborhoods
and shares the data and his findings with interested people and clients. His presentations are filled with a lot of info about the market, the property, the financials the expected returns, and his team patiently answers questions.
One of our investments with Neal had an exit with better than projected returns (during uncertain times with the pandemic)!!
Thank you for a
thorough and newsy update. I am still in awe of your work efforts and completions in such a short timeframe.
And in these hot, hot, hot summer months no less. The report is very detailed and it makes me feel like I am there to look at it all.
Thank you for your dedication to excellence
and for all your conscientious efforts. It is much appreciated.
I have invested in a couple of opportunities with Grocapitus. One of them is a multifamily property, which has been
performing superbly, and way better than the initial predictions.
The second one is a
new construction project, which is on-time, even during the COVID-19 pandemic.
And the marketing material that the team has put together to lease these new units is top-notch. Awesome job by Neal and his team in managing the properties and
consistent communication with their investors.
As a Limited Partner to invest in a syndication, for me, trust is a big factor. With Neal's vast experience in multifamily construction, data-driven approach, and creative ways in solving problems as well as straightforwardness helped in creating the trust.
As an investor in Park Canyon I am so impressed with the management team. One of the things that I really like are the quarterly updates of the project. They keep you informed of what is going on with the project and point out both the good and the bad. You are never kept in the dark about your investment. This is a fantastic project and I am so happy that I am an investor!
I invested in Grocapitus' project because I liked their data driven approach to analysis and conservative underwriting. So far results have been delightful as the project has outperformed the projections and continues to perform well even during the coronavirus crisis. I also appreciate the fact that Grocapitus is easily available and they make it a point to communicate personally to address any questions I might have.
Challenging times take a dedicated group to plan and execute to meet investment objectives.
The site and asset management teams at Grocapitus have worked hard to maintain occupancy, keep tenants safe, and delinquency low.
Collectively, they have effectively managed expenses and incrementally increased rents to
exceed NOI budget expectations.
Grocapitus is not just your average passive real estate syndication. It's a dynamic powerhouse of real estate investments with outperforming returns. I have partnered in 6 projects with Grocapitus and have already exited on one of them (Greenfill Storage) with 2.16x equity multiple in less then three years.
Neal's laser sharp focus on industry trends, macro and micro economic indicators combined with data centric research is at the core of such performance. Neal and Anna actively manage every project with a unique and innovative approach to enhance and extract highest value for their investors. With timely communications via monthly updates, quarterly webinar and other ad hoc communications I am always in the know of what's happening at the ground level on every single project.
Thank you Neal, Anna and the entire Grocapitus team.
I invested in Park Canyon with Grocapitus some years. Neal, Anna and team are both excellent at what they do and return better than predicted returns.
For this particular project I received a 2.4 gross equity multiple return in less than 3 years. This way exceeded expectations.
What impresses me about Grocapitus is their quality research on every aspect of the market, their excellent communications and updates to investors, and their ability to add value to every property they touch.
I also appreciate their personal care about their investors and that they are accessible to discuss investments and concerns in a prompt manner. I highly recommend them for real estate investment.
You guys are doing a fantastic job! I've invested in a couple of projects with Grocapitus. Your
frequent and timely communication
throughout the projects is great. Your data driven approach is what attracted me. Your
efficiency and thoroughness of execution
has led the way to
great returns for passive investors
like me.