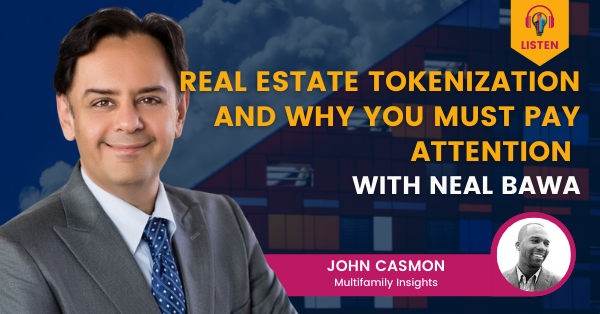 This podcast episode is about the disruptive trends in Multifamily and an explanation of tokenization by Neal Bawa. 
How will cryptocurrency, blockchain, and tokenization impact the real estate industry? Well, Neal Bawa believes this is the greatest wealth creation opportunity in a generation.
Neal Bawa is a technologist who is universally known in the real estate circles as the Mad Scientist of Multifamily. Besides being one of the most in-demand speakers in commercial real estate, Neal is a data guru, a process freak, and an outsourcing expert. Neal treats his $508 million-dollar portfolio as an ongoing experiment in efficiency and optimization.
Neal serves as CEO / Founder at Grocapitus, an iconic, data-driven commercial real estate investment company. Grocapitus' 28 person team acquires and builds multifamily & commercial properties across the U.S. With more than 440 active investors and over 2,000 reviewing our projects, the Grocapitus portfolio currently spans across 10 states with 22 projects (1 sold) and 3,300 units/beds.
Let's dive in to learn more about how the real estate industry is about to change, what real estate tokenization is, and what to expect in 2022.
Announcement: Download Our Sample Deal and Join Our Mailing List
[00:01 – 02:55] Opening Segment
Neal talks about his background. He talks about how he leverages analytics. [02:55 – 09:48] What to Expect in 2022
What we are going to be seeing in real estate this coming year. Why people want to hold inflation resistant assets. Neal talks about the expected rent growth in 2022  The areas that we will be seeing more cap rate compression. Why the interest rate increases that are expected this year won't budge cap rates. He talks about the relationship between interest rates and cap rates. [09:48 – 25:52] Tokenization of Real Estate
Neal talks about real estate tokenization.  He breaks down what a real estate token is. How tokenization in multifamily will make it a lot easier to invest. What makes blockchain technology so powerful. The way to democratize real estate. Neal talks about some of the players that already have stepped in to make real estate tokenization happen. Links below. Neal talks about their plans for tokenization and the webinar they will host at the end of January.