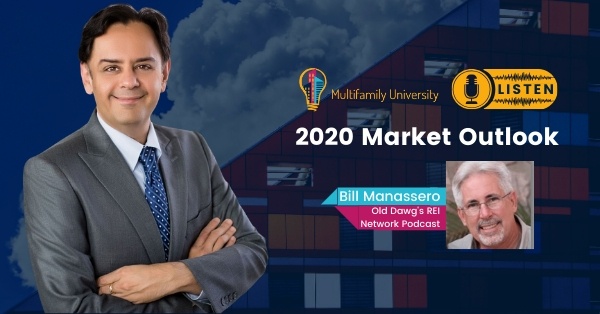 Will the next recession hit in 2020? What will happen to real estate prices? How should we invest? In today's podcast episode, returning guest and CEO of MultifamilyU Neal Bawa shares his insights on the current economy, issues directly affecting real estate investors and prudent strategies to invest today and still profit big!
What You Will Learn
Will 2020 have a recession?
What key things you need to look at to determine to understand where we are as an economy in light of a recession
How is the Federal Reserve directly affecting our extended growth cycle
What will happen with real estate pricing in 2020?
How the 2020 economy will affect the real estate market
The 5 key sources Neal uses in evaluating the economy
Should we hold on to our cash in anticipation of great property deals ahead?
What are the best real estate investment markets for 2020
Market Outlook for 2020
He loves to talk about macro-economics and its impact on real estate
If you are going to look at how real estate will be impacted in 2020, you need to look at a number of things:

What's the economy doing?

Because real estate depend is very tied to jobs, inflation, consumer spending and interest rates

For example, if we lose 2 million jobs, the demand for housing drops off
It's not enough to say we have an under-supply of homes, when you lose 2 million jobs, you have an over-supply

The economy is always the foundation of everything we do in real estate

When you look at the economy for 2020, the key theme is "recession risk is definitely waning but an economic slowdown is extremely likely"
However, there have been a number of things that have happened to reduce the risk of recession:

The Federal Reserves extremely accommodating interest rate policy – When we thought we would see big increases, in 2019, we've seen significant declines in interest rates

Fed funds rate today is 1.75 – it was 2.5 a year ago

He sees a long term negative impact
But in the short-term, it massively reduced the risk that 2020 would be a recession year
It does affect growth, however, to cause growth to slow a bit
The Federal Reserve is forecasting:

A slow down in 2020
Consumer spending was at 2.4 in 2019, it's predicted to go down to 2 in 2020
Real GDP was at 2.2, they're now forecasting 1.8
Inflation was at 2.1, they're now forecasting 1.7

We've done enough to avoid a recession in 2020 by slowing things down

The economy will likely have a negative effect on real estate but not as much as would have occurred in a recession
One of the "X-Factors" for 2019 was the trade wars but it looks like things have calmed down – a positive today
Neal sees a "slow down" coming but not a recession
Real Estate Pricing in 2020
Neal has looked at 5 sources

Today Magazine
Freddie Mac
Fannie Mae
Mortgage Bankers Association
National Association of Realtors (NAR)

The forecasts are all pretty consistent

2-3% real estate price growth
Rent is growing at about 2%
That has actually ben the percentage trend percentages for the last 50 years

Interest rates in the 3.6% range
People are not buying because of the interest rates, they aren't buying because home prices are still too high for their income
Multifamily Market
International Investors

Have been pouring money into the US
The US real estate market is still the best place globally to invest

The US economy is great – look at our GDP
Our debt may be 100% of GDP but that's better than places like:

Chine is 200%
Japan is 250%

We are one of the few countries that have positive interest rates

There are banks (possibly Sweden or Norway) where you can get a 30 year mortgage at under 0%

So, if you buy a home for $400,000, you pay back $396,000 at the end of 30 years
The banks are getting money at negative 1% from the market

For the last two years, an insanely large amount of capital have been flowing from pension funds in Europe and Japan and other places with 0% interest rates.

Most is going to multifamily
It used to go to single family when the Chinese were investing

Who are the big buyers today?

Canada
Saudi Arabia
Singapore
Looking Ahead – Should We Hold Cash Waiting for the Downturn Deals?
The Federal Reserve Bank seems to have learned a lot from previous recessions
They are very sensitive to preventing a recession because the world economy is so much weaker
Don't hold your breath for the recession, according to Neal.  He doesn't think it's coming in 2020
Where to Invest Today
Rentzilla – Major push for rent control by politicians
There's no proof that rent control works – San Francisco and New York have it but they have the highest rents in the country
He doesn't invest in real estate in Democrat states (even though he is a Democrat)
Landlords are under attack
Southwestern States are doing well in job and population growth, housing and investment opportunities
However, North Carolina, Texas, Florida and Georgia are doing better in job and population growth than California
Highest population growth city – Atlanta, GA
Other high growth cities:

Orlando
Dallas
Austin
Houston
Nashville
Boise

However, prices have risen in these places as well
Top States for Neal

North Carolina

Best Cities:

Raleigh
Charlotte
Winston-Salem
Ashville
Housing is inexpensive
Cashflow at 6-7 but appreciation is strong

Florida
Arizona

Best Cities:

Phoenix
Gilbert
Chandler
Mesa (a favorite of Neal)
Tucson

Texas

He believes that Primary markets or MSAs are currently pretty risky
It's better to look at secondary markets
Tertiary markets, however, could be a bit risky

Denver – prices have increased by 55-60%

A safer bet would be Colorado Springs
Any city within a 100 mile radius of Denver would be better

Nashville has also gone up 50% plus

Chattanooga is a better bet
Memphis, too

In California

The inland empire (Riverside, San Bernadino) is better than most of California

He can't find any good properties under market
However, if you can find any, the "Rustbelt" may have those deals:

Indiana
Kansas City
St. Louis
Philadelphia
Ohio

Dayton
Cincinnati
Cleveland

But BE AWARE

Make sure you check population growth before you go into these places

Cincinnati is better than Cleveland or Dayton because population in Cincinnati stays the about the same while Cleveland and Dayton are losing population
Philadelphia is pretty good

Stay away from dangerous markets like Detroit

It does well during an expansion
It gets destroyed during a recession
How Should Old Dawg's Invest in Light of a Coming Recession?
Multifamily is still pretty good

In 2008,

Single Family Homes went down 58% in value
Multifamily only went down 10%

Rents only decline for one year (that was in 2009)

We've turned into a landlord nation
Workforce Housing (Class C+ and B- properties) is a fairly good place to invest now

Older apartments with few or no amenities
Who are the Workforce Housing tenants: bus drivers, Starbucks worker, airport workers, retail employees, teachers)
Some prices have gone up there, causing cash flow to go down
But it's still a good place to invest
This is type of property was the highest rent growth property in the last 6 years

Superstar Markets (like Phoenix)

New construction can be a good investment

REITs

Self-Storage
Mobile Homes
What Will Happen to Multifamily if There Is a Recession
Let's say the second half of this year (2020) there is a recession – two consecutive quarters of negative growth

When this happens, the Federal Reserve will cut interest rates – maybe to 0%

It won't help anything in the short term – it will take about 9 months to wind there way through the economy

In the short term, rent growth will go down and owners of apartments will stop distributing money to their investors and start focusing on filling their properties

People are losing jobs and will actually drive demand for apartments
Every recession, more than a million people lose their homes
Apartment owners will be focused on keeping occupancy up and delinquencies down

Once they stabilize their properties they can pay their mortgage and wait until the end of the recession

After the recession ends, it will take the Federal Reserve 2 to 3 years to even think about raising interest rates

In 2009, it took 6 years before interest rates went back up
Even if the next one s mild, it should take at least 2 years to go back up
Apartment owners will be able to increase rents, re-finance at GREAT low interest rates and it creates great cash flow
Although it can work out well for apartment owners, they still much management prudently all through the recession
A Message for Californians
Californians are probably breathing a sigh of relief to think they will be OK in 2020
However, be cautious, there are other factors that could hurt investors in 2020 in California and other "rent control states"
Legislators have been trying to win people over to the idea of rent control
If you are looking to invest or already invest in California, do a Goggle search and see what is ahead for rent control on California
It is a phased approach – Legislators are fighting a war, not a battle
At least two more tiers of rent control are coming to California within the next year, year and a half
Research what is ahead before investing in California rental property
He does not see California as a good place to invest for the next 10 years
He doesn't see a "separate California Recession" happening but the regional economics is not good at this time
Flipping may have more opportunity than long-term holds but it's still more likely that prices will decline and not go up
Neal always wanted to build the "Wikipedia of Real Estate"
He wanted a place where people could do a deep-dive learning without being sold an expensive package of stuff
He does 50 deep-dive webinars there every year
Content is not just on multifamily
There's content on self-storage, legal info, taxation, AirBNB and more
The goal is to bring in experts from all over the U.S., with a "no sales pitch" approach and leave the webinars on the site
Neal has a dozen himself and he covers multifamily and insight on key US markets
FEATURED INVESTMENT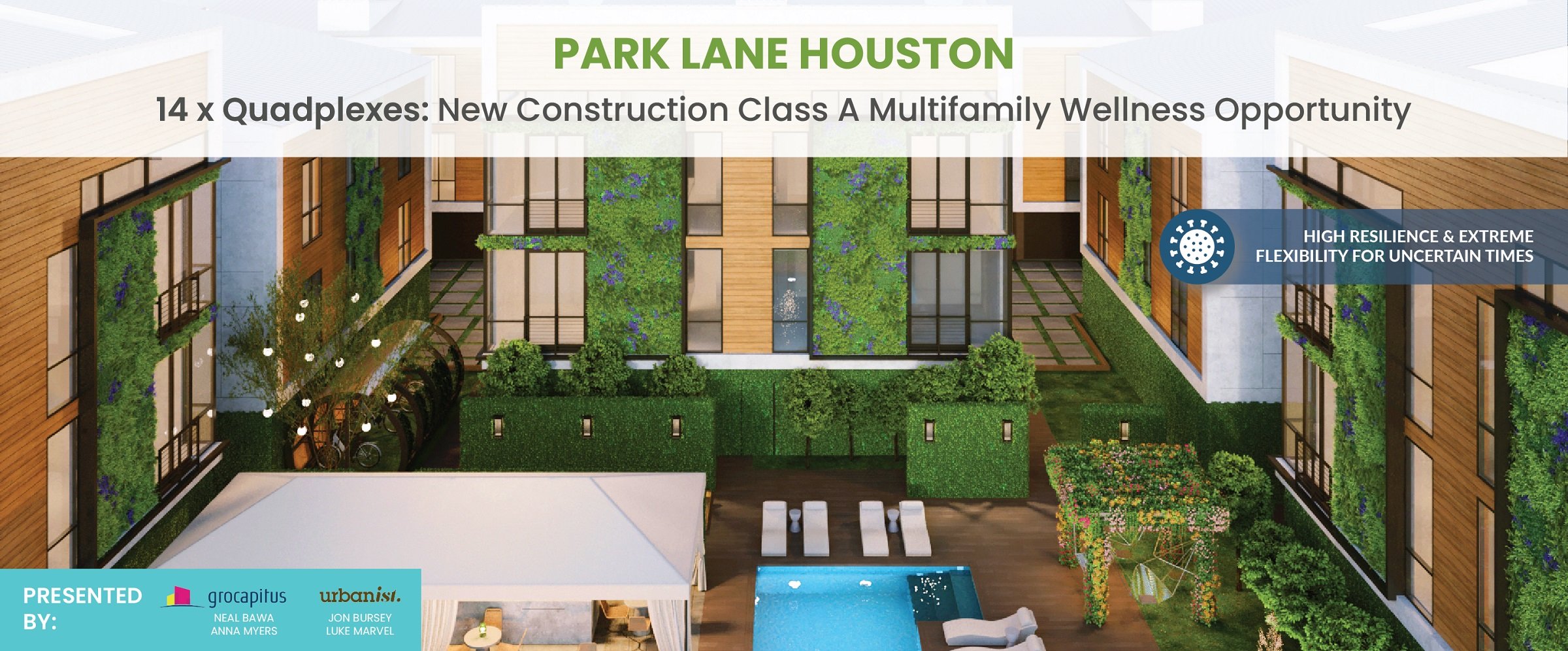 New Construction Class A Multifamily Wellness Opportunity
28.1% Projected AAR
Investor-Friendly Short-Term Project
Multiple Exits with Innovative No Debt Option
Affordable Luxury in an Upscale Modern Design
Corona-Resistant Features
* This investment is open to accredited investors. To learn if you can invest if you are non-accredited click here.