Anna Myers: From Single Mom to Real Estate Investing Superstar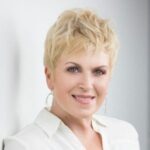 This podcast guesting of Anna Myers is hosted by Sean R. Sparkman of Safe and Sound Podcast with Sean Sparkman.
Today Sean interviews Grocapitus VP, ANNA MYERS. Anna tells the story of how she went from single mom to vice president of one of the country's top real estate syndication companies. Anna is an amazing and talented woman who is equally at home with a spreadsheet or behind a camera. She's owned several successful businesses and is in demand as a speaker, trainer, and webinar presenter.