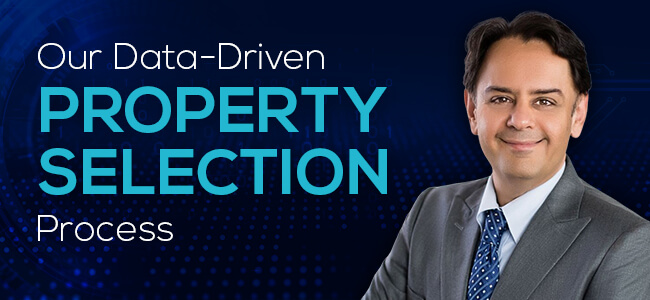 Have you ever wondered how Grocapitus find properties and land to purchase for our investors? Well, it doesn't happen easily or quickly.
Join us for a peak look behind the scenes of Grocapitus' property acquisition team.
Every month, we track 323 markets across the country to identify opportunity markets that we want to get into. We are constantly on the hunt for the next up-and-coming area.
Our investment requirements are so stringent that we can analyze over a hundred deals before finding some that we are happy to submit an offer.
Let's be clear – we look at over 100 deals each week and may only submit an offer on one of them. We pass on an insane number of deals every day because they just don't meet our criteria. After all, we only want to bring out investors the BEST OF THE BEST.
So, how do we select the cream of the crop? Well, through a targeted set of filters, requirements, and detailed property-specific analysis.
Phase 1: Filter Out the Noise
Our acquisitions team gets sent deals from over 300 markets by both corporate and local boutique brokerages. Our strong relationships with real estate professionals who are on the ground in these markets are essential to us being the first to know about off-market and new listings.
Before we dive too deep, we make sure that the property satisfies the following:
It's in a market we are interested in – we focus on select tertiary markets.
It's not too old (think 1980s construction or more recent).
It's in our target price rate – we call this the "middle market"
It's a product we are happy to invest in – for example, we don't invest in student housing.
There's value-add capacity.
These are our first set of 'filters,' and if a property satifies each of them, we move on to our next phase of analysis.
Phase 2: Neighborhood Data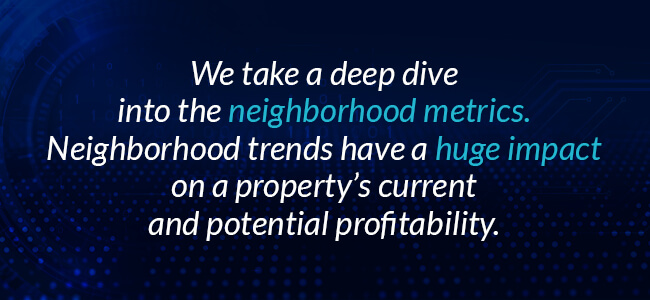 Once a listing satisfies all of the above, it makes it onto our short-list, and we start diving into the neighborhood-specific data in Phase 2.
Before we get too detailed in analyzing the individual property, we take a deep dive into the neighborhood metrics. Neighborhood trends have a huge impact on a property's current and potential profitability. Major items we consider are:
Average Market Rent
Gross Market Rental
Median Household Income
Unemployment Rates
The percentage of renters in the neighborhood.
Market trends in employment, income, and rental rates.
Phase 3: Property Specific Proforma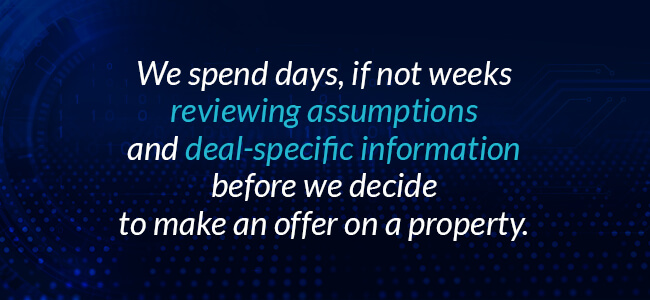 Once the area and basic property stats have met our requirements, we start putting together a property specific proforma.
Our team reaches out to local experts to gauge the true metrics associated with a property. We find out:
– Actual market rental rates from local property management companies
– Property tax estimates
– Insurance estimates
– Value-add market projections and more!
We spend days, if not weeks reviewing assumptions and deal-specific information before we decide to make an offer on a property. Each deal must pass a rigorous stress-tested, data-proven analysis to meet our criteria.
Phase 4: We Finally Make an Offer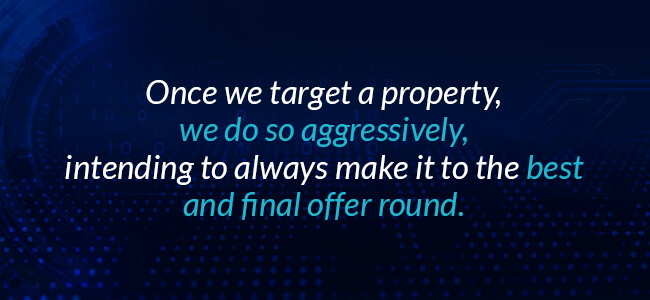 Then, once we target a property, we do so aggressively, intending to always make it to the best and final offer round.
We are choosy with our projects – but it pays off!
Our property acquisition team is incredibly data driven. We review state, county, city, and neighborhood data to select the best properties in markets that are in prime position for outstanding growth.
Our selection process is so curated and accurate that larger institutions tend to follow our lead. Therefore, we are able to generate such incredible returns for our investors.