How to Use Partnerships & TECHNOLOGY to Grow Your Real Estate Investing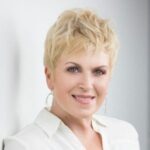 This podcast guesting of Anna Myers is hosted by Stephanie Wankel and Kristen Beatty of Frenzied To Financial Freedom.
What do you get when you cross a data scientist with a professional photographer, a real estate investor and a mother of six? You get the amazing Anna Myers, vice president of Grocapitus, a company that helps people become financially free by investing in apartment buildings, student housing, and senior housing properties in high-quality markets with a unique focus on data analytics. You won't want to miss Anna's in-depth knowledge and candor about her real estate investing success with tax advice and tips about tools to use in growing your business. Anna also discusses her purposeful evolution from one career to another, which will provide inspiration for all.