A Deep Dive Into Underwriting And Due Diligence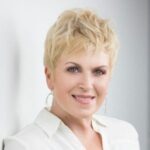 This podcast guesting of Anna Myers is hosted by Lisa Hylton of The Level Up REI Podcast.
In this episode, Anna Myers, the Vice President of Grocapitus, joins Lisa Hylton to talk about underwriting, asset management, and due diligence. By using data to understand what makes sense, Anna dives into what underwriters do and what you should look into before investing in deals. Get to know Grocapitus and have a glimpse into how Anna and her team analyze the market, as well as learn the specific numbers needed that can make or break your deal.