Neal Bawa's REAL ESTATE TRENDS TOOLKIT
Packed with fact based, eye-popping data to help you make better investment decisions
2022 Real Estate Trends Presentation
Top Cities for Real Estate Investors
U.S. Outlook And Impact Reports
Ranking Reports And Articles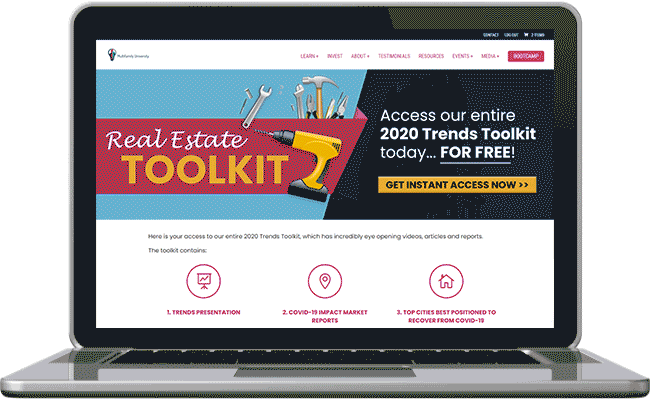 Where should we send your
"Real Estate Trends Toolkit"

access information?
Featured Growth Investment
Delos Pre-IPO Investment Opportunity
World's largest certification platform for healthy buildings, a high margin model, recurring revenue, and a substantial beneficiary of secular and ESG trends at a global level
35% Projected IRR (Based on Class A-1, 3 yr hold)
Mature company with 20% of Fortune 500 as clients, and a presence in 125 countries and growing
Invest at a fraction of Delos' future projected IPO value, via Series B convertible notes that put your money AHEAD of the nearly $500 Million already invested
506C investment for accredited investors
Avondale Commons | Phoenix, AZ
324 Units New Construction Class A Multifamily
25.7% Projected average annual returns
#1 Fastest growing county in the US, 6 years in a row!
506C investment for accredited investors
Listen to Neal's interview on The Remote Real Estate Investor with the Roofstock
Listen To Neal and Anna On Real Estate Podcasts
How Multifamily University Is Giving Back

"I invested in Grocapitus' project because I liked their data driven approach to analysis and conservative underwriting. So far results have been delightful as the project has outperformed the projections and continues to perform well even during the coronavirus crisis. I also appreciate the fact that Grocapitus is easily available and they make it a point to communicate personally to address any questions I might have."
— Anshu S.
"As an investor in Park Canyon I am so impressed with the management team. One of the things that I really like are the
quarterly updates of the project
. They keep you informed of what is going on with the project and point out both the good and the bad. You are never kept in the dark about your investment. This is a fantastic project and I am
so happy that I am an investor!
"
— Katrina J.
"I've invested in 6 of Neal's projects. As I write this, we just had the first successful exit: the Windward Forest Multifamily project, where we earned >20% IRR.
Neal is extremely agile. Until COVID hit us, his projects were mostly multifamily deals (each with some value-add strategy that should increase the NOI). Since then, he realized that there may be higher risk in such deals due to tenants' unemployment, inability to pay rent, and eviction restrictions. So his last few projects are construction projects that will hopefully get completed after the pandemic is over.
Still, I am very impressed by the multifamily projects performance: the occupancy levels have not gone down, and rent collection is very high, given the circumstances. I personally like the multifamily projects more, as they offer dividends from the rent income, and it's easier to predict their performance. Anyways, I trust Neal's numbers, so I have invested in his recent construction projects, too. Keep them coming, Neal!"
— Ivan Z.
"Neal and his team are awesome! I've invested in 4 projects with him and after 2 years we've already sold one. He's outperformed other syndicates that I've invested with for much longer. I love getting his monthly updates. It's rare to have a syndicator update us so regularly.
Grocapitus is a breath of fresh air. They do things differently and way better than their competitors. Thank you Neal for being an amazing leader to your team! I couldn't be happier with the results so far. Looking forward to investing more in the future."
— Sarah L.
"I had met Neal at a real estate investor meetup a few years back. Neal was very positive about investing in multifamily. <span class="testimonial-highlight">He does a lot of research using data analytics on markets, identifying growth areas, finding good neighborhoods</span> and shares the data and his findings with interested people and clients. His presentations are filled with a lot of info about the market, the property, the financials the expected returns, and his team patiently answers questions.
<span class="testimonial-highlight">One of our investments with Neal had an exit with better than projected returns (during uncertain times with the pandemic)!!</span>"
— Vengal D.
"Challenging times take a dedicated group to plan and execute to meet investment objectives.
The site and asset management teams at Grocapitus have worked hard to maintain occupancy, keep tenants safe, and delinquency low.
Collectively, they have effectively managed expenses and incrementally increased rents to
exceed NOI budget expectations.
"
— Rob D.
"I have invested in a couple of opportunities with Grocapitus. One of them is a multifamily property, which has been
performing superbly, and way better than the initial predictions.
The second one is a
new construction project, which is on-time, even during the COVID-19 pandemic.
And the marketing material that the team has put together to lease these new units is top-notch. Awesome job by Neal and his team in managing the properties and
consistent communication with their investors.
As a Limited Partner to invest in a syndication, for me, trust is a big factor. With Neal's vast experience in multifamily construction, data-driven approach, and creative ways in solving problems as well as straightforwardness helped in creating the trust. I look forward to working with Neal on future opportunities."
— Avinash P., 2-time investor
"Hi All. Thank you for a thorough and newsy update. I am still
in awe of your work efforts and completions in such a short time frame.
And in these hot, hot, hot summer months no less. The report is very detailed and it makes me feel like I am there to look at it all.
Thank you for your dedication to excellence
and for all your conscientious efforts. It is much appreciated."
— Lisa H.
" Neal, I've had tremendous response from your presentation. You are
absolutely one of the most fascinating and powerful forces in the space right now Neal. A true gentleman, professional, and magician of words and ideas.
And what I love is that there is no sales pitch, only knowledge-based education which leads to
lucrative results.
I'm truly humbled to see your process in action. Thank you for being abundant. "
— Steven Bond, Organizer, Utah IREI Summit & CEO, Fourplex Investment Group
"I've been extremely happy about the Park Canyon project. Neal, Anna and the Grocapitus team were truly professional and diligent during the entire time. They stayed on top of everything, never missed one single monthly / quarterly update (which is really amazing!). They went extra miles to ensure that the investors get the best possible return. For example, before selling the project, they even redesigned the Offering Memorandum pages by the broker to make it look more attractive to potential buyers.
The team also has the rare ability to identify unique, unusual opportunities for further improvements. Park Canyon by itself was already a great value-add project, but they were able to see the unique opportunity to rebuild the Phoenix building (on the site of a previously burnt down building) and the tremendous value it could bring. This move allowed the project to deliver an outsized return that greatly exceeded my expectations for a value-add.
I consider myself very lucky to be in this project. Big thank you to Neal, Anna and the Grocapitus team!"
— Chong Z.
Thanks again for the excellent investor communication and strong execution. Your team's investor communication is one of the best among the public and private companies I invested in –
Regular, transparent, action oriented and strategic
.
— Jay Chen
Terrific presentation about your views of the markets and state of the economy.
Really informative information. Keep up the great work!
— Peter W.