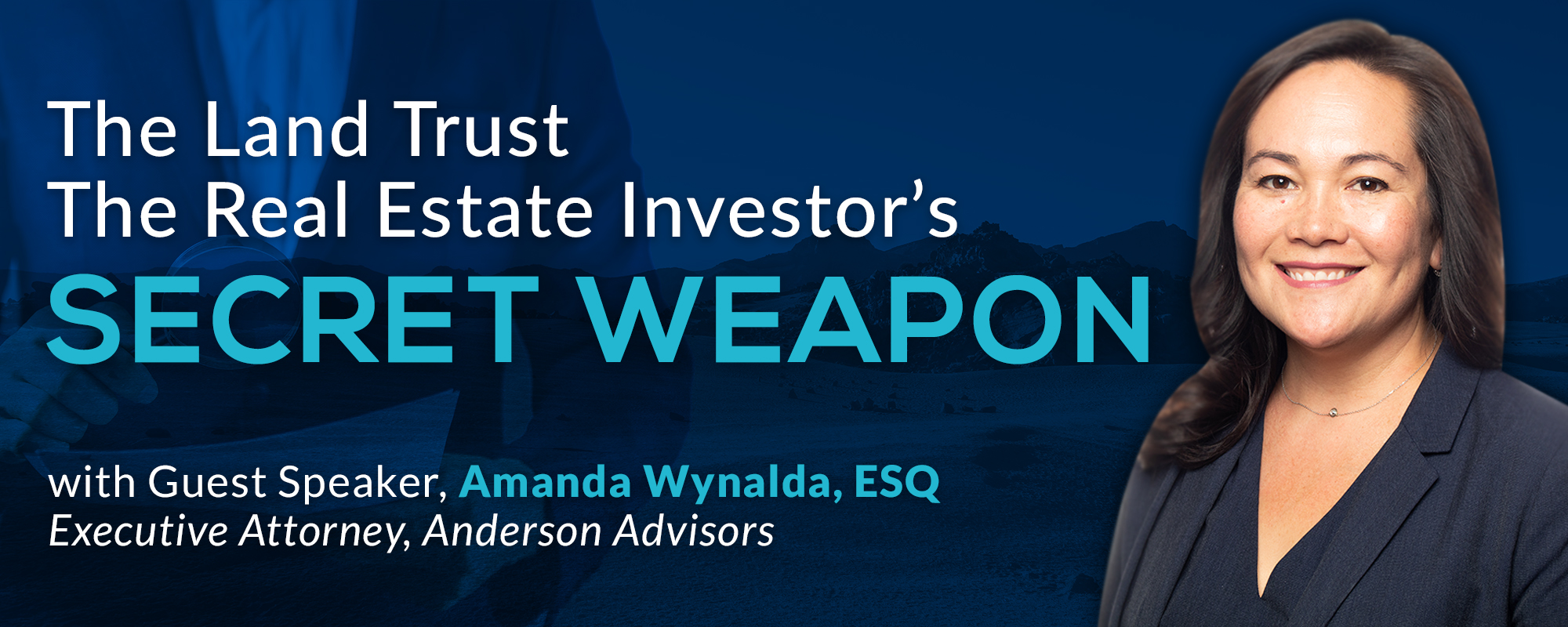 Where should we send your
The Land Trust The Real Estate Investor's Secret Weapon

webinar replay access information?
Privacy Policy: We hate spam and promise to keep your email address safe.
Value of projects (as completed value)
Community members in our facebook groups
Looking for a way to protect your real estate investments? Look no further than the land trust!
Many real estate investors overlook the value of the land trust, but with the right knowledge and strategy, it can become your secret weapon in protecting and growing your portfolio. Having a well-balanced plan is key to ensuring your investments continue to thrive, and the land trust can play a vital role in that plan.
Join us for our upcoming webinar with Anderson Advisors where you'll learn all about the secret language of land trusts and why it should be part of every investor's plan. 
We'll dive into the differences between land trusts for your homestead and those for your investment properties, and give you three key things to do next once your property is in a land trust.
So what exactly are land trusts? 
Simply put, they're grantor trusts that provide privacy and protection from lenders and can be used in conjunction with LLCs for even more asset protection. Land trusts shift a property's title out of your name and into a trustee's care. 
In this value driven webinar, you'll learn how land trusts:


Help you avoid violating the due-on-sale clause in your mortgages.



Provide ownership privacy



Can help you legally avoid state or county transfer taxes.
Despite their many benefits, land trusts are often underutilized by real estate investors. Many attorneys and CPAs are unfamiliar with them, as only a small selection of U.S. states formally recognize them. But in this webinar, you'll gain the knowledge and confidence to use land trusts to your advantage, no matter where you're based.
Don't miss out on this valuable opportunity to learn about the land trust and how it can help you protect and grow your real estate investments. Sign up for our webinar today!
The Land Trust
The Real Estate Investor's Secret Weapon
Where should we send your
The Land Trust The Real Estate Investor's Secret Weapon

webinar replay access information?
Privacy Policy: We hate spam and promise to keep your email address safe.
Even if you can't make it, sign up anyway!
We'll send you the recording.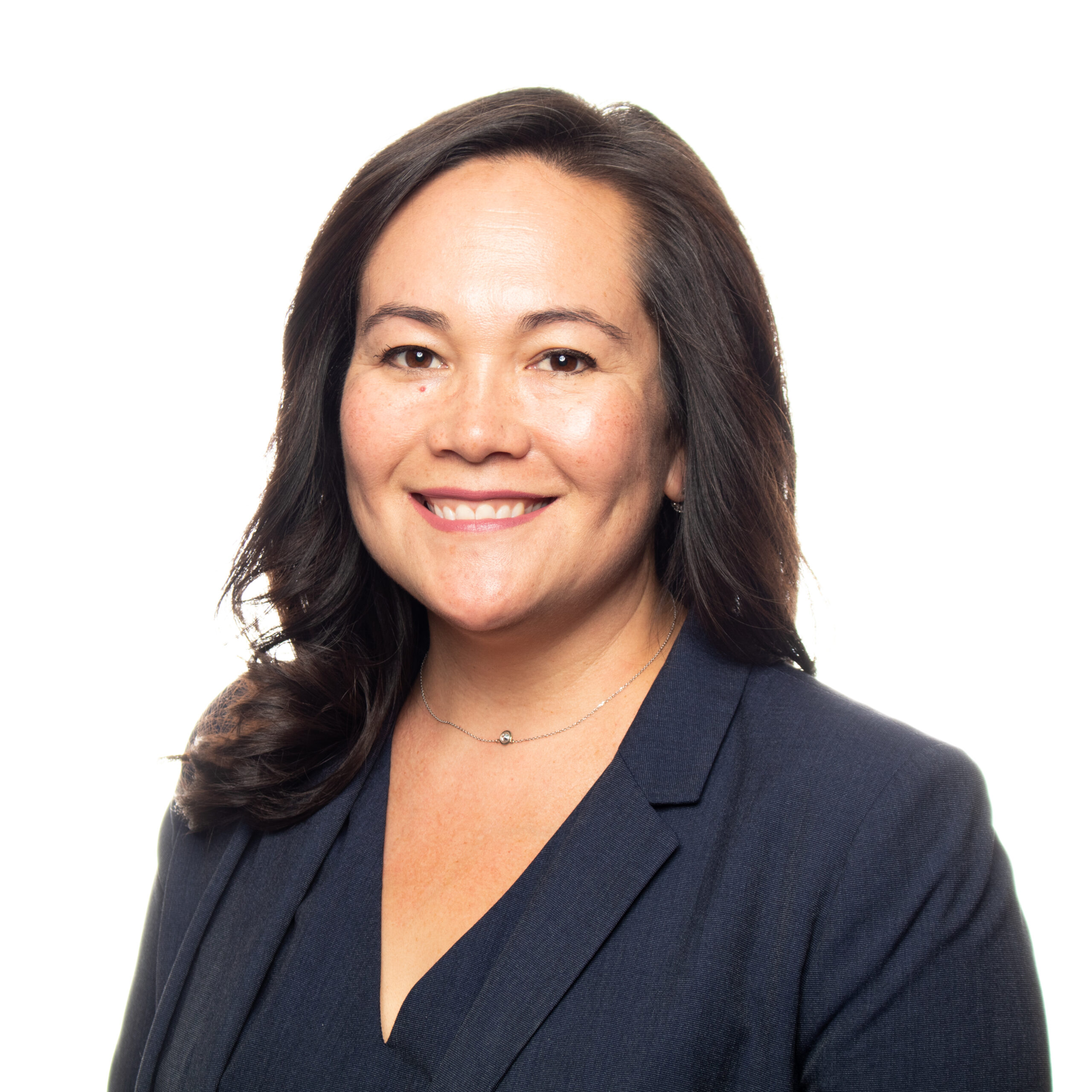 Executive Attorney Anderson Advisors
About Our Guest

Amanda Wynalda, ESQ
Amanda is a Platinum Attorney at Anderson Business Advisors who specializes in tax planning and asset protection. She loves empowering clients through education so they have the confidence to take their businesses to the next level.
After working in sports television production covering everything from college football to the World Series she spent some time as a stay-at-home mom to her 6 kids (now 5-22 years old), Amanda took an LSAT course and enjoyed it so much that she decided to apply to law school. She received a scholarship to attend Pepperdine University located a half hour from her home and knew she had found her calling. As a student at Pepperdine Law, she worked at the IRS Chief Counsel's Office in the Small Business/Self-Employed and Tax Exempt and Government Entities divisions.
After graduation, she worked in the fields of tax, estate planning, and family law before joining Anderson as a tax professional. She likes Anderson's vision of providing world-class service at a level unseen in the law and accounting industry – where a client can work with their tax and business professionals under one roof. As a real estate investor herself, she brings her personal experience with the work she does with her clients. Amanda currently oversees Anderson's Land Trust and Deed departments and is a special advisor for our pension department. Amanda regularly presents at Anderson's Structure Implementation Series covering tax preparation and planning strategies and in her free time she travels the country for her kid's soccer games.
What Savvy Investors Have Said About Previous Webinars
Very interesting and well-researched presentation! Not only will I be incorporating these upcoming disruptive trends into our future investments, I also plan to tweak our existing real estate and stock portfolio to maximize future returns and reduce risk.

You stand out from other gurus. Your presentation was content-rich and up to speed with Silicon Valley styles – open, techie, and sharp.

Wow! The thoroughness of the presentation was exceptional. Regardless of where you are in your real estate investing career, you would have learned something at this presentation. I left knowing how to better analyze markets, which will leave me making smarter and more profitable investments!

The Land Trust
The Real Estate Investor's Secret Weapon
Where should we send your
The Land Trust The Real Estate Investor's Secret Weapon

webinar replay access information?
Privacy Policy: We hate spam and promise to keep your email address safe.
What Savvy Investors Have Said Neal's Webinars
I am a faithful attendee of all the webinars presented by Neal Bawa and Anna Myers. I always learn something and they send my brain spinning in many directions. The knowledge Neal presents on all things real estate is priceless. Whether it is "climation" or "tokenization" the facts and data are always accurate. It would be foolish of me to pass on the opportunity to receive the down-to-earth wisdom provided and freely given by Neal and Anna. Neal Bawa is the epitome of real estate knowledge, which I trust implicitly. Thank you for sharing it with me.

The recent Multi-Family Presentation by Neil Bawa was thorough, timey and detailed. His complete detailed analysis of Global, International and Emerging Markets of where to invest and where to avoid is invaluable. Anyone who follows the knowledge gained from his presentation would greatly benefit in multi-family investing.

I just want to reach out and thank you for all your insights. I feel like a young padawan learner in this real estate syndication game. You have given my wife and I the perfect roadmap to generate a treasure map of the U.S. and to make data-driven decisions so we can remove the emotions out of our choices in markets we are investing in. I feel like I have had a light saber with my software developer / data-science background and you just taught me how to use the force. I really look forward to learning so much more from you.


LET US HELP YOU RECEIVE MORE PASSIVE INCOME
Questions/Troubleshooting: info@multifamilyu.com
© Copyright 2020 | Multifamily University | All Rights Reserved